What is the 21 Day Challenge?
The 21 Day Challenge will help you grow in your personal relationship with Christ as we focus on a specific spiritual habit every day. Each day includes a Bible passage and a simple action to apply that day. Use email, Facebook, Instagram, and Twitter pages to share these scriptures and challenges each day.
How should I use it?
To participate in the challenge, either send your people a link to this webpage; or upload the challenge to your church's website and use email, Facebook, Instagram, or Twitter to upload the images, scripture reference, and daily challenge to your church's social media accounts.
The next 21 days are going to be a great experience. The 21 Day Challenge is an opportunity to grow spiritually while reading God's Word and following through with the daily challenge. LifeWay Research reveals that only 16 per cent of church attenders read the Bible every day. Reading the Bible and applying what you have read to your daily life is critical to your growth as a follower of Christ. The 21 Day Challenge is designed to help you become a self-feeder of the Bible.
During the Challenge, you will need a Bible, pen, and a journal of some type. Simply follow the instructions for the Challenge each day.
Pray for spiritual formation.
Commit to form godly spiritual habits over the next 21 days.
Spiritual Conversations
Talk to someone about God.
Praise
From dawn to dusk, replace secular media with Christian praise.
Memorize Scripture
Memorize a Bible verse
Prayer
Write a prayer and share it with your accountability partner.
Tithe
Give 10% to the church tomorrow.
Serve
Serve someone when it is inconvenient for you.
Fast
Fast from dawn to dusk today.
Meditate
Read Psalm 23 and meditate on a different verse each hour for 6 hours.
Multiply
Invest and release ministry.
Hospitality
Enjoy a meal with someone today.
Character
Share with your challenge partner how God is building your character.
Community
Participate in a Connection Group.
Deny Self
Deny your selfish impulses.
Gospel Advance
Pray for the salvation of a lost friend.
Love
Practice loving all people today.
Forgive
Forgive a person that has wronged you.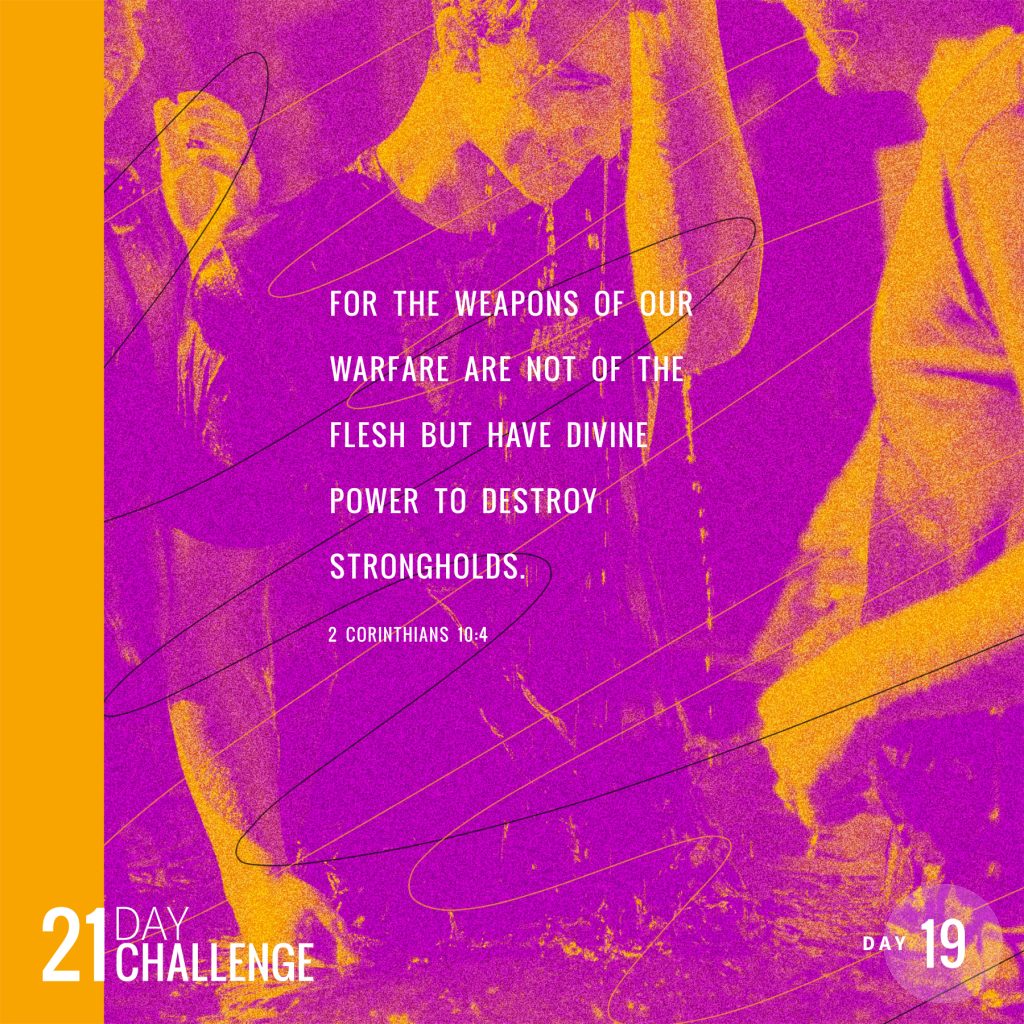 Thought Life
Take every thought captive.
Read 2 Corinthians 10:1-5
Share the Gospel
Share the Gospel with someone.
Sent
Identify a person to whom God is leading you to proclaim the Gospel.
Read Isaiah 6:1-8
Read Matthew 28:19-20