Welcome to the Virtual Missions Center. It's our hope that this site will encourage you to invest your life in The Cause of Christ like so many Oklahoma Baptists in the past and like who are currently involved in the Great Commission. Please take your time and discover the spiritual and physical needs of our world and learn about opportunities that you can be involved in to advance the Gospel here, near, and far!
The Importance of Missions/GoStudents
It's important to be aware of the spiritual and physical needs in our world today. Social problems are opportunities for us to share the Gospel of Jesus Christ. Oklahoma Baptists have a long history of stepping into areas of brokenness and meeting the needs to advance the Gospel.
Seattle
Seattle has the 3rd highest homeless population in the US.
Oklahoma City
One out of every 6 residents of Oklahoma City lives in poverty.
Lawton
10K people in Lawton deal with substance abuse issues and 6K deal with depression.
Tulsa
95% of people living in multi-housing, government housing, mobile home parks, etc in Tulsa are unchurched.
Portland
Portland is known as the least religious city in the US. 60% say that God is not important to their life.
New York City
The whole world can be found in NYC. With over 800 languages spoken daily and people from every corner of the world, it makes it a strategic place to end global lostness.
Belize
The poverty rate for the indigenous Mayan population of Belize is 68%.
Peru
The total number of Venezuelan refugees that have fled to Peru now stands at about 800K.
Spain
There are 8,124 towns in Spain. 92% of these towns don't have an evangelical church.
Latvia
There are 10K children in the orphanages of Latvia (of which most are dysfunctional). Of those 10K orphaned 92% have living parents and they feel abandoned.
Africa
Zimbabwe Africa is home not only to one of the 7 Natural wonders of the World (Victoria Falls), the big 5 animals (Elephant, Lion, Cape Buffalo, Leopard, Rhinoceros), but also home to 16.5 million people that need the Savior!
Portgual
Evangelical churchgoers in Portugal are 0.4% of the population and in some regions believers are almost "invisible".
Cambodia
Of Cambodia's 15M in population, over 95% practice Buddhism.
Calgary
In Calgary, only 5.2% of 1.4M inhabitants claim to believe in Jesus. Christ.
Edmonton
There is only one Baptist church per 60K people in Edmonton.
More Information / Apply
It's our hope that God has revealed to you the need and His command to share to Gospel here, near, and far! It's also our hope that God will give you experiences that will radically impact your life through our King and His Cause. The question is WILL YOU TAKE THE FIRST STEP in obeying the Great Commission of Jesus? A way for you to TAKE THAT STEP NOW is by clicking the "I'm Interested" tab below and letting us know how you're willing to potentially serve a GoStudents project. You don't have to have all the answers involved in coming to do this because it's not an application to go. It's just you taking the first step in saying I AM WILLING. We hope you'll do it today!
More Information
Are you interested in going on a GoStudents trip but are unsure which one or how to go? Let us know and we'll help guide you!
Student Missions Offering
Before the influential missionary William Carey left for India, he told his supporters, "I will go down into the pit, if you will hold the ropes." A vital way that we can participate in God's mission is through giving. It is the critical "rope" of support needed to do missions. Missionaries cannot go unless they are sent and this requires supporting them financially. Throughout the New Testament we see a pattern of people giving toward missions, so the gospel keeps advancing. The
Student Missions 
offering is a practical way for you to "hold the rope" and partner with us in sending Oklahoma students on to the mission field. This year's offering will support those going on GoStudents mission projects and to our 2021 project, GREATEST NEED (see below). We are asking everyone to give at least $5 to the
Student Missions 
Offering! 
GREATEST NEED
The world is changing so fast and new needs seem to present themselves daily. Falls Creek will be partnering with Send Relief because it will help us meet just the right needs, at just the right time. With your help, we hope to raise thousands of dollars to serve vulnerable people across the globe. Let's pray, give, and go together to reach the nations with the hope of Jesus Christ!
Project Description
Send Relief
, a collaboration between the
International Mission Board
and
North American Mission Board
, is going to help the students at Falls Creek make the greatest difference in our communities and the world around us—because compassion ministry opens doors to the Gospel!
Sharing the love of Jesus through meeting the greatest and immediate needs in our world is the central goal of this year's missions offering. Whether it is responding to health crisis, natural disasters, caring for refugees and displaced families, fighting human trafficking at home and abroad, or supporting adoption and foster care efforts and strengthening communities facing economic and physical crises, our goal is the same.
That is why we are calling this year's Falls Creek mission offering "GREATEST NEED." The world is changing so fast and new needs seem to present themselves daily. Falls Creek will be partnering with Send Relief because it will help us meet just the right needs, at just the right time. With your help, we hope to raise thousands of dollars to serve vulnerable people across the globe. Let's pray, give, and go together to reach the nations with the hope of Jesus Christ!
How to Pray
SEND RELIEF PRAYER POINTS
Strengthen Communities
Pray for the families being served to have open hearts to the gospel and stamina to remain hopeful.
Pray for relief agencies to have wisdom, be equipped, and maintain partnership with churches.
Pray for systemic change in oppression, illness, and policies to help the most vulnerable among us.
Care for Refugees
Pray for safely escape persecution and war, have access to necessities and transportation, strength in acclimating to new cultures, and jobs with a livable wage.
Pray for medical and spiritual support, comfort in grief, the reunification of separated families, and a smooth adjustment period as they settle into their new homes.
Pray for God to make Himself known, for spiritual guides along the journey, supernatural wisdom to navigate difficult situations, and a church body to welcome them with open arms.
Protect Children
Pray for safe, loving homes for abandoned kids, the formation of healthy relationships with foster and adoptive families, and strong support for those aging out of orphanages or foster care systems.
Pray for single-parent families to be financially stable and healing for families who have lost siblings and parents to disease, poverty, or neglect.
Pray for churches to welcome adoptive and foster families, for its member to provide financial and emotional support, and open hearts and homes willing to offer vulnerable children safety and nurturing.
Human Trafficking
Pray for physical, emotional, and spiritual healing from trauma incurred, established safe homes, and salvation for them and their families.
Pray for advocates to be resilient to ward off compassion fatigue, favor with government officials, and sufficient resources.
Pray for traffickers to be discovered and prosecuted, the dismantling of criminal networks that rely on abuse, and their personal conviction, repentance, and salvation
Crisis Protection
Pray for families and survivors to have healing of survivor's guilt, solutions to job loss, property damage and bankruptcy, and safe havens to recuperate.
Pray for first responders to have adequate training, resources, and information to provide exceptional service to survivors.
Pray for governmental leaders to make well-informed decisions, have quick response times, and foresight to improve future relief efforts.
You can give two ways!
You can mail a check to:
Oklahoma Baptists
ATTN: Student Mission Offering
3800 N May Ave
Oklahoma City, OK 73112
Or give online by clicking the button below.
Evangelism Resources
Why learn and share the Gospel? Because it's literally the best news on the planet! Forgiveness of sin, eternal life, and a relationship with God are just a few reasons why the Gospel message is GOODNEWS! But… there is a certain urgency that comes with sharing this message. Here are three urgent reasons to learn and share the Gospel.
Command
Jesus commands every Christian to share the Gospel with those around them, to the ends of the earth! We should do it because we love the Lord and want to obey Him! (Acts 1:8)
Compassion

There is a literal hell people are heading to if they don't get their sins forgiven through the Savior, Jesus. There is also a hell they go through by going through life broken in their sins and separated from God. (2 Thes 1:8-9; Matt 9:36)
Invest 
The best way to invest your life is to store up treasures in heaven by investing in getting as many people there as possible. (Matt6:19-21, 1 Cor 3:11-15)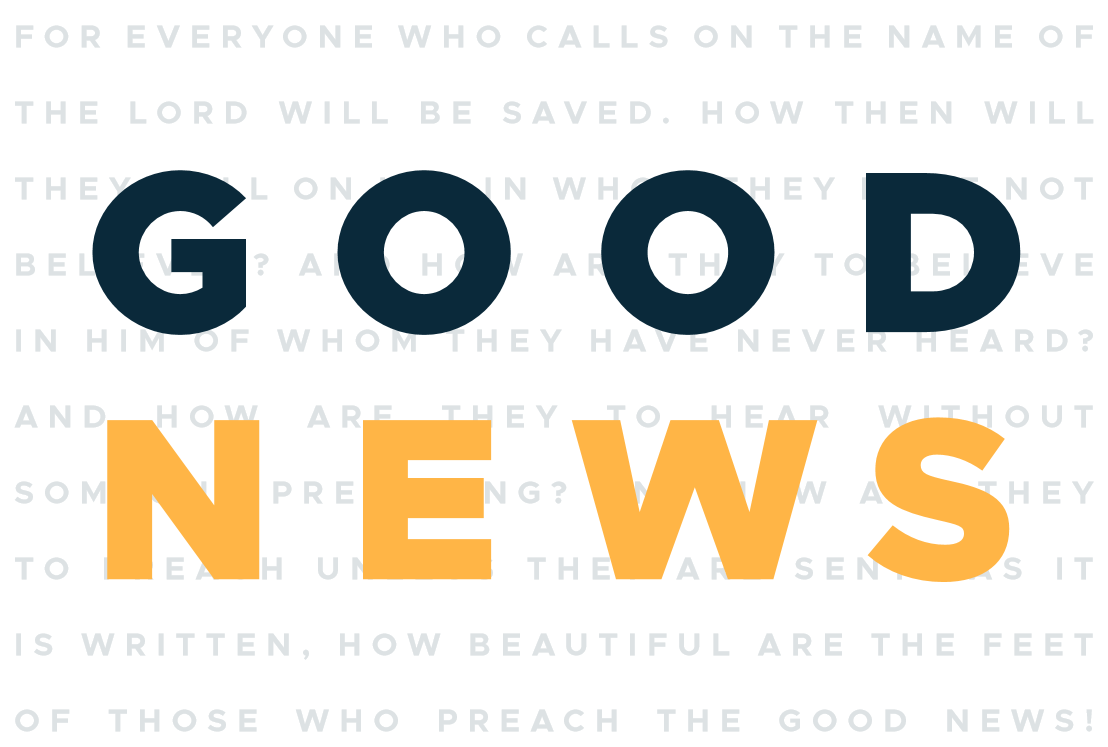 Click below to download and print the Good News Conversation Strategy Guide.
Click below for video training.
Online Mission Project
You can participate in missions right now! Christians from the early church until now have always been leveraging technology for the sake of the Gospel. Today it is easier than ever to send a message instantly to anyone in the world who has internet access. Use your social media platforms humbly, yet clearly to communicate the hope you have in Jesus and the difference your faith makes in your life. Don't simply talk about engaging people with the gospel, actually do it! Get online today and start having natural conversations with lost people, and look for ways to turn that natural conversation into a spiritual conversation. Click the link to download the training guide for some thought-provoking spiritual conversation starter phrases, videos, pictures, and more to help you get started.
Campus Ministry
Your school may be the greatest mission field of your life!  FISH Club / Worldview Outreach is a great way to organize Christian students, from many different churches, in an effort to own what they believe and reach their campus for Christ. Every week has something you're trying to accomplish and every week points toward week four which is designed to be an outreach vehicle to engage nonbelievers in a spiritual conversation about the Gospel & life's most important questions. It's a great way to get the truth of who Jesus is onto your school campus!
Beyond GoStudents
Feel called to be a missionary? Trying to figure out your next steps after a week-long group mission experience? The North American Mission Board (NAMB) and the International Mission Board (IMB) have a multitude of opportunities for students to serve on mission in the United States and other countries, ranging from two weeks, two years, to a lifetime.